Operational Updates
Click HERE for the most updated hours, customer guidelines and updates to store policy.
The Miniaturist: A Novel (Paperback)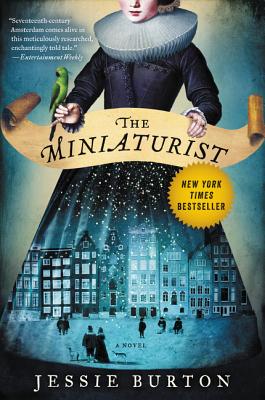 $16.99

Likely On Our Shelves Now
September 2014 Indie Next List
---
"When 18-year-old Nella Oortman arrives in Amsterdam in 1686 as the wife of a rich merchant trader, she finds herself living in a city that glitters with wealth and sharing a beautiful home that holds dark secrets with a distant husband and his sharp-tongued sister. When her husband gives Nella a perfect replica of their home as a wedding present, she employs a miniaturist to furnish the cabinet-sized piece but those creations bring about eerie and unexpected events. This is a beautiful and intriguing tale, highly recommended for fans of both historical fiction and suspense."
— Carol Hicks, Bookshelf, Truckee, CA
Description
---
Now a television miniseries, as seen on Masterpiece on PBS
Set in seventeenth century Amsterdam—a city ruled by glittering wealth and oppressive religion—a masterful debut steeped in atmosphere and shimmering with mystery, in the tradition of Emma Donoghue, Sarah Waters, and Sarah Dunant.
"There is nothing hidden that will not be revealed . . ."
On a brisk autumn day in 1686, eighteen-year-old Nella Oortman arrives in Amsterdam to begin a new life as the wife of illustrious merchant trader Johannes Brandt. But her new home, while splendorous, is not welcoming. Johannes is kind yet distant, always locked in his study or at his warehouse office—leaving Nella alone with his sister, the sharp-tongued and forbidding Marin.
But Nella's world changes when Johannes presents her with an extraordinary wedding gift: a cabinet-sized replica of their home. To furnish her gift, Nella engages the services of a miniaturist—an elusive and enigmatic artist whose tiny creations mirror their real-life counterparts in eerie and unexpected ways . . .
Johannes' gift helps Nella to pierce the closed world of the Brandt household. But as she uncovers its unusual secrets, she begins to understand—and fear—the escalating dangers that await them all. In this repressively pious society where gold is worshipped second only to God, to be different is a threat to the moral fabric of society, and not even a man as rich as Johannes is safe. Only one person seems to see the fate that awaits them. Is the miniaturist the key to their salvation . . . or the architect of their destruction?
Enchanting, beautiful, and exquisitely suspenseful, The Miniaturist is a magnificent story of love and obsession, betrayal and retribution, appearance and truth.
About the Author
---
Jessie Burton was born in London in 1982. She studied at Oxford University and the Central School of Speech and Drama. The Miniaturist is her first novel.
Praise For…
---
"The Miniaturist is one of the year's most hyped novels, and it's easy to see why. Burton conjures every scent and crackle of Nella's world. A-"
— Entertainment Weekly

"The Miniaturist is that rarest of things - beautifully written, yet also a compelling page-turner. It's haunting, magical, and full of surprises, the kind of book that reminds you why you fell in love with reading."
— —S.J. Watson, author of Before I Go To Sleep

'Utterly transporting...one of those rare debut novels that excels in every regard. The past is brought to life in potent, sensory detail: one feels steeped in it. Burton's prose beguiles the reader...My first instinct on finishing this book was to immediately read it again."
— Hannah Kent, author of Burial Rites

"Burton's writing is expressive and descriptive. While her prose is rich, it does not overwhelm the story...This historical novel with its strong female characters will appeal to those who enjoy the haunting undercurrents of Carlos Ruiz Zafon's The Shadow of the Wind."
— —Library Journal

"[A] haunting debut."
— Good Housekeeping

"Jessie Burton nimbly transports contemporary social issues to the 17th century where a costume drama rich in historical detail is embellished with supernatural intrigue…The Miniaturist is a late-harvest summer delight."
— New York Daily News

"As in Donna Tartt's The Goldfinch, the pleasure lies in giving in to well-wrought illusions, and the result is a beach read with meat on its bones - perfect for the Labor Day transition from play to work."
— New York magazine/Vulture.com

"Rich in 17th century atmosphere…Debut novelist Jessie Burton has a terrific subject... All those severe portraits of people in dark clothes and starched white ruffs, along with those glossy, death-scented still lifes, spring to life."
— Cleveland Plain Dealer

"A standout portrayal of the wide range of women's ingenuity."
— Booklist

"A fabulously gripping read that will appeal to fans of Girl With a Pearl Earring and The Goldfinch, but Burton is a genuinely new voice with her visceral take on sex, race and class..."
— —The Guardian

"This debut novel, set in 17th-century Amsterdam, hits all the marks of crossover success: taut suspense, a pluck heroine- and a possibly clairvoyant miniature-furniture designer."
— —New York magazine

"The Miniaturist is a masterpiece of atmosphere and tension …. The themes Burton explores are as relevant today as they were long ago …. a thoroughly engaging, beautifully written work of historical fiction."
— Washington Independent Review of Books

"In The Miniaturist, Burton uses a historical object - the real Petronella Oortman's cabinet house in Amsterdam's Rijksmuseum - as the springboard for a fantastically spun tale of love and mystery. It's a story that astutely reflects our own age's obsessions and prejudices, and it's one not to be missed."
— Dallas Morning News

"The Miniaturist excels in depicting Amsterdam and its wealthy upper class, and lovers of art and of Amsterdam will be drawn to Burton's imaginative story, which flows as effortlessly as water down a canal."
— BookPage

"The Miniaturist is an impressive debut… Burton has created a world that, like the cabinet house, draws us in until we feel the dread and mystery and wonder that surround Nella."
— Tampa Bay Times

"In Jessie Burton's atmospheric debut, The Miniaturist, the powers of love and obsession, sins and secrets, loyalty and forgiveness bind together a cast of sympathetic characters who all have a part to play in a collectively chilling conclusion."
— Shelf Awareness

"A magical, intricate marvel of perfection… with luxurious prose that immerses the reader in the cold, damp of Amsterdam… A book that enchants from beginning to end."
— The Gilmore Guide To Books

"A suspenseful and moving read."
— My Friends are Fiction

"Seventeenth-century Amsterdam comes alive in this meticulously researched, enchantingly told tale."
— Entertainment Weekly (Must List)

"Burton gives her narrative the propulsive drive of a thriller, but her distinctive prose conveys deeper, harder answers than a whodunit. This fine historical novel mirrors the fullness of life, in which growth and sorrow inevitably are mingled."
— Washington Post

"Jessie Burton's debut novel…has all of the trappings of a historical page-turner: a rich setting in 17th-century Amsterdam, a plot inspired by an antique "cabinet house" located at the renowned Rijksmuseum, and a diverse cast of characters…a perfect amount of authentic detail and a plot that speeds along."
— Minneapolis Star Tribune

"Teen bride Nelly strives to connect with her aloof husband and his spinster sister, but uncovers secrets that, in intolerant 1686 Amsterdam, could mean death. It's a tense tale."
— Us Weekly

"A seductive meditation on greed, power and the tortuous journey even the well-heeled must endure for self-possession. Burton adroitly depicts a culture of contradiction: a love of affluence and indulgence chafing against the impulse for Godfearing abstinence."
— New York Times Book Review, The Shortlist