Operational Updates
Click HERE for the most updated hours, customer guidelines and updates to store policy.
Notorious: A Thrilling Historical Regency Romance Saga (Rebels of the Ton #1) (Paperback)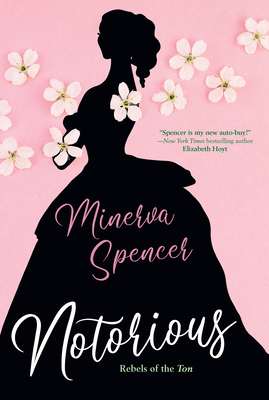 $15.95

Likely On Our Shelves Now
Description
---
Critically acclaimed author Minerva Spencer brings a rebellious spirit to the Regency with a vibrant new series focused on how the youth of that era subvert the social expectations and mores of the day in order to carve their own paths in life. Full of witty humor, Minerva Spencer weaves a tale of a forthright and unapologetically opinionated lady and the effortlessly charming rogue who find themselves thrown together by a fluke of circumstance and into a marriage of necessity. Can the wallflower and the rake find common ground in their distaste for convention and forge a lasting union?

A PopSugar Best New Romance of November
A She Reads Fall Historical Romance Pick
A Bookclubz Recommended Read
"Unique characters and emotional depth...a winner. Spencer gives you all the feels!"
--Sabrina Jeffries

"Brilliantly crafted...an irresistible cocktail of smart characterization, sophisticated sensuality, and sharp wit."
--Booklist STARRED REVIEW

"Sparkling...impossible not to love."
--Popsugar

Fans of Evie Dunmore, Sarah MacLean, and Eloisa James will delight in this innovative, empowering, and sexy story from acclaimed author Minerva Spencer. Join the Rebels of the Ton as they subvert Regency norms and expectations...and manage to find true love along the way.

The cure for a willful wife . . .

Drusilla Clare is full of opinions about why a woman shouldn't marry. But that doesn't stop the rush of desire she feels each time her best friend's brother, notorious rake Gabriel Marlington, crosses her path. So imagine her dismay when she finds herself in the clutches of a scoundrel, only to be rescued by Gabriel himself. And when Gabriel's heartless--and heart-pounding--proposal comes, it's enough to make Dru's formidable resolve crumble . . .

. . . is a smitten husband.

She's sharp-tongued, exasperating--and due to one careless moment--about to become his wife. Still, something about Drusilla has Gabriel intrigued. First there's the delicious flush of her skin every time she delivers a barb--and then the surprisingly sensual feel of her in his arms. Gabriel even finds himself challenged by her unusual philosophies. And when he discovers a clandestine rival for Dru's affection, his temperature flares even hotter. But the real threat to their happiness is one neither of the newlyweds sees coming. If they're to save their future--and their very lives--they'll need to trust in each other and their growing love.

"Packed full of fiery exchanges and passionate embraces, this is for those who prefer their Regencies on the scandalous side." - Library Journal

"Strong, complex, and believable." - Publishers Weekly
About the Author
---
Minerva Spencer is the multiple award-winning author of Regency-set historical romance novels, including the Rebels of the Ton and the Outcasts series. Born in Saskatoon, Saskatchewan, she lived in Canada, the US, Europe, Africa, and Mexico before moving to New Mexico, where she resides now with her husband and dozens of rescue animals. She was previously a college history professor, a criminal prosecutor, a bartender, and owner of a bed and breakfast. Visit Minerva online at MinervaSpencer.com.
Praise For…
---
Praise for Notorious

"Unique characters and emotional depth...a winner. Spencer gives you all the feels!"
—Sabrina Jeffries

"Thanks to Minerva Spencer's sparkling dialogue and ability to ramp up the sexual tension, the unconventional couple at the heart of Notorious is impossible not to love."
—Popsugar

"Both characters are strong, complex, and believable, and the cliffhanger offers a nice setup for the sequel. Readers who like thrills mixed in with their romance should check this out."
—Publishers Weekly
 
"Packed full of fiery exchanges and passionate embraces, this is for those who prefer their Regencies on the scandalous side."
—Library Journal
 
"Romance readers will feel like they have hit the literary trifecta with Notorious, the first brilliantly crafted book in much-awarded Spencer's brand-new Regency-set Rebels of the Ton series. Spencer serves up an irresistible cocktail of smart characterization, sophisticated sensuality, and sharp wit—all while orchestrating her own clever spin on the popular bluestocking-and-rake trope."
—Booklist, Starred Review

Praise for Minerva Spencer and her novels:

"This diverting first in Spencer's Outcasts Regency series features a matched set of high-ranking misfits whose love affair doesn't even begin to play out until after their wedding…The fast-paced plot is elevated by Mia and Adam's wicked repartee, savvy wit, and energetic libidos."
—Publishers Weekly on Dangerous

"Dangerous is the first in Minerva Spencer's new Outcasts series of Regency romances, and it has such deliciously juicy backstories for its charming protagonists that it's impossible to imagine anything topping it….Spencer certainly succeeds in sweeping the reader up in the same dizzying whirl! Sexy and wildly entertaining, Dangerous is a promising romance debut."
—Bookpage on Dangerous

"Minerva Spencer's writing is sophisticated and wickedly witty. Dangerous is a delight from start to finish with swashbuckling action, scorching love scenes, and a coolly arrogant hero to die for. Spencer is my new auto-buy!"
—New York Times bestselling author Elizabeth Hoyt

"Two characters with secrets who unexpectedly find what they need in each other's arms—Readers will love this lusty and unusual marriage of convenience story."
—New York Times bestselling author Madeline Hunter

"Smart, witty, graceful, sensual, elegant and gritty all at once. It has all of the meticulous attention to detail I love in Georgette Heyer, BUT WITH SEX!. . . It has everything a historical romance should. Sexy, thrilling, involved, foreign ports, pirate ships, crumbling castles - and a visit to Brighton. The hero and heroine are unique and engaging, and the secondary characters equally vivid. Can't wait to get my hands on the sequel."
—RITA-award winning author Jeffe Kennedy

"Fans of Amanda Quick's early historicals will find much to savor in Spencer's exuberantly crafted, exhilaratingly plotted, and erotically charged sophomore literary effort that quickly proves to be every bit as much fun as her stellar debut, Dangerous (2018)."
—Booklist on Barbarous STARRED REVIEW

"Spencer's gleeful second Outcasts historical is just as much fun as the first…Scintillating….Readers will particularly appreciate Spencer's considerable talent with bedroom scenes as this romance rockets to its satisfying conclusion."
—Publishers Weekly on Barbarous